As people have spent more time at home over the past year, interest in usable, comfortable outdoor living spaces has soared. Functionality has proven to be important as many have opted to use outdoor areas as remote workspaces, classrooms, or simply to relax and connect with family and nature.
The desire to have a multi-functional outdoor space is a trend The House Plan Company, a house plan marketing firm based in Eugene, Oregon has verified based on the interest in has seen in house plans with extensive or comfortable outdoor living spaces. Four of the most popular designs offer a mix of covered and open-air outdoor areas.
"When deciding on house plans, home buyers should consider how they're most likely to use outdoor spaces—just like they would other rooms in the home," said Rick McAlexander, CEO of The House Plan Company. "Knowing whether the space will be used for large or small gatherings or simply a quiet place to relax will aid in the decision-making process. It's also important to consider orientation on the lot and weather patterns as they can impact the effectiveness of covered spaces."
Increasingly, home buyers have demonstrated a desire for outdoor spaces featuring shade structures and privacy screening, and in some cases, the ability to create distinct areas that can serve multiple purposes. Whether for family gathering or to create the perfect setting for an outdoor yoga practice or Zoom call, a shift has occurred from purely entertainment to true outdoor living spaces. Luxury amenities like premium lighting, fireplaces, outdoor kitchens, WiFi and comfortable furniture have also become popular when thinking about how to add to the ambiance of the space.
With options that accommodate both expansive and intimate spaces, homeowners are seeking out plans that lend themselves to comfortable outdoor living. Four of the most popular of The House Plan Company's plans that accommodate extended outdoor living include:
Featuring a popular farmhouse design, Palmetto offers a single level floorplan with an oversized covered patio that conveniently extends the living space of the kitchen, dining and great room. An outdoor kitchen and 9-foot ceilings make outdoor living easy, and a generous covered front porch offers homeowners yet another space to relax outdoors.
Vaulted outdoor patios and covered walkways that wrap around three sides of this lodge-style home offer extended living options and plenty of spaces to congregate outside. The ability to incorporate a covered outdoor living room with stone fireplace offers ample entertaining and living areas that can be enjoyed year-round.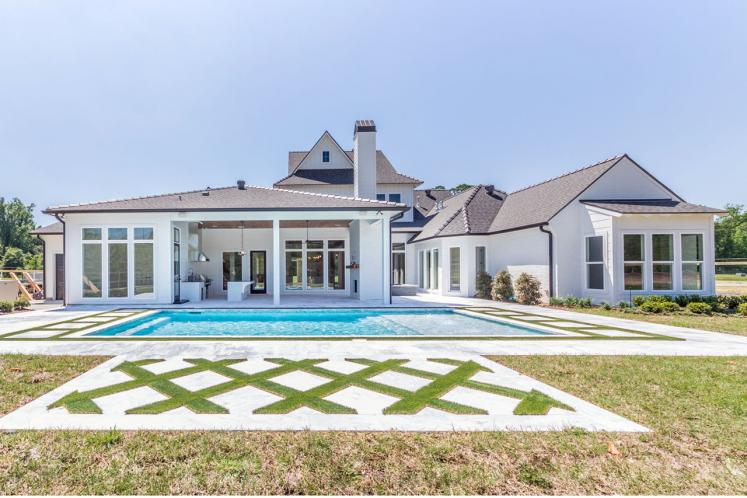 This farmhouse-style design features a spacious, covered outdoor kitchen with an island that offers additional counter space and a living area with a cozy built-in fireplace. An open-air alcove adjacent to the rear porch creates another nook for relaxing, entertaining and more.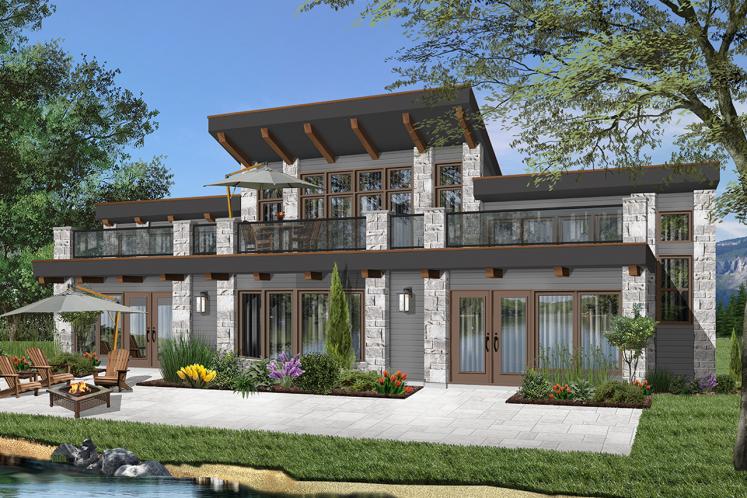 Offering a contemporary design with split-level living, the Odessa plan features a unique, loft-style sunroom that walks out onto a rooftop terrace with a beverage bar and built-in garden beds. Walk out access from multiple rooms on the ground level encourages homeowners to extend their living space outdoors.
Ultimately, location is an important consideration as it relates to planning an outdoor space. Knowing whether there is heavy sun, rainy overcast days, bugs or a mild year-round climate will affect the type of space desired and whether it is covered, open, screened or three-season enclosed.
"Just like planning for long-term use of the interior of a home, home buyers should consider how their needs may evolve," continued McAlexander. "Transitioning from kids running about to extended family gatherings or aging in place accessibility—all of these stages of life and how they can impact how outdoor space is used are important to keep in mind."
[Quote section]
[Product Hero section #1]
[Product Hero section #2]
[Product Hero section #3]
[Product Hero section #4]
[Product Hero section #5]
[Carousel description widget]
[Product carousel widget]