The world of architecture and design constantly evolves, offering fresh and innovative house plans that cater to a variety of tastes and preferences. In this article, we will explore five new and captivating house plans that have the potential to captivate homeowners and enthusiasts alike. From the rustic charm of a Barndominium to the luxurious modern 2-story design, a unique accessory structure, an inviting lodge, and an iconic country house plan, these homes are poised to make a splash in the industry. Let's dive into the details of each plan and uncover their distinctive features.
Barndominium Design:
The one-story floor plan of the Barndominium design offers a comfortable and functional layout. The great room serves as the central hub for family gatherings and entertainment, while the well-separated bedrooms provide privacy and tranquility. The Barndominium style embraces the concept of repurposing old barns or utilizing barn-like aesthetics to create residential spaces, combining rustic charm with modern living. These homes often feature open floor plans, high ceilings, and exposed beams, giving them a spacious and industrial vibe.
Stunning Modern 2-Story House Plan:
This luxurious family house plan boasts four bedrooms, providing ample space for everyone. The sleek design and carefully planned layout ensure a harmonious flow throughout the house, while the dog-trot style adds an element of uniqueness and functionality. Modern 2-story house plans embrace sleek lines, minimalist aesthetics, and a focus on open spaces and natural light. The dog-trot style, characterized by a breezeway or open-air corridor between the living and sleeping areas, enhances airflow and allows for privacy and separation in the home.
Unique Accessory Structure:
This accessory structure is an ideal addition to any modern property, complementing outdoor living and recreational spaces. With its 884 square feet, it offers a large covered area complete with a kitchenette and a full bathroom, perfect for hosting gatherings or enjoying poolside activities. The loft on the second floor provides an elevated vantage point to relish in waterfront, mountain, or urban views. A standout feature of this design is the waterfall that spans the width of the structure, culminating in a long firepit, creating a mesmerizing focal point.
Eye-Catching Lodge Design:
This lodge-inspired house plan celebrates the beauty of nature, emphasizing expansive glass windows and a seamless connection to the outdoors. The use of glass throughout the home allows for breathtaking views and an abundance of natural light. The great room, with its ability to open up to the covered deck featuring a BBQ station, invites indoor-outdoor living, perfect for entertaining and enjoying the surrounding environment.
Iconic Country House Plan:
The iconic country house plan exudes classic charm with a u-shaped covered porch that wraps around the front of the home. With four bedrooms and four full bathrooms, it offers ample space for a growing family. The first floor harmoniously blends formal and informal gathering spaces, with the formal living room and dining room at the front, while the great room takes center stage at the back of the floor plan. This design strikes a perfect balance between elegance and comfort, creating a warm and inviting atmosphere.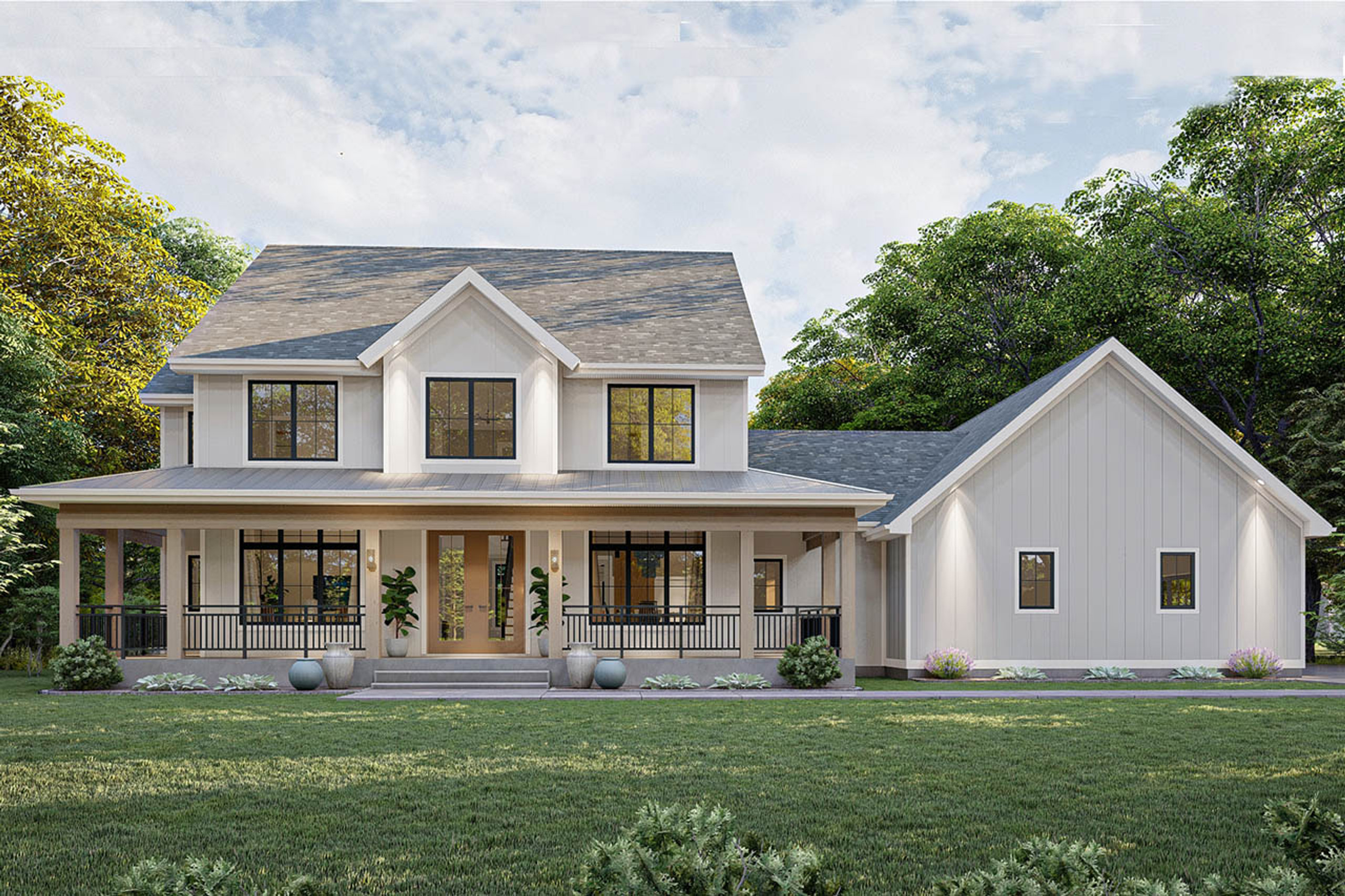 Ready to embark on your journey towards finding your dream home? Explore these five unique house plans and let your imagination run wild. Whether you're drawn to the rustic allure of a barndominium, the contemporary elegance of a modern 2-story design, the versatility of an accessory structure, the natural beauty of a lodge-inspired home, or the timeless charm of an iconic country house plan, there's a perfect option waiting for you. Start envisioning your ideal living space and consult with architects or designers to bring your dream home to life. Don't settle for ordinary when you can have extraordinary. Begin your exciting adventure today and turn your house into a true reflection of your style and aspirations. Your dream home is just a step away!
[Quote section]
[Product Hero section #1]
[Product Hero section #2]
[Product Hero section #3]
[Product Hero section #4]
[Product Hero section #5]
[Carousel description widget]
[Product carousel widget]