There are plenty of reasons to think creatively when it comes to building the perfect home plan. A dream design can be tweaked to help generate extra income as a primary residence or investment. And owners with a bit of room to spare can create spaces for beloved parents or grandparents to live in comfort while maintaining independence for the rest of the family.
Owners are increasingly eyeing plans built with the versatility of in-law suites, duplexes and multigenerational homes in mind. From cottages and farmhouses, to craftsman and hillside homes, there are numerous designs to choose from that check the boxes of adaptability and luxury.
To passersby on the street, the Generation #44964 design (shown above) featured on The House Plan Company has all the appearance of a single-story cottage. But a step beneath the covered front porch and through the entryway reveals there's much more here than meets the eye. The entryway opens into a generously sized kitchen and dining room that extends to a living room, and out through sliding doors to a covered rear porch. Back off the entryway, a side hallway leads to the private master bedroom with a luxurious master bath.
But it's off of the kitchen where this plan flexes its versatility. The rooms beyond are an entirely separate apartment unit, with an optional door to connect to the main home, or to be left out to maintain privacy. About half as large as the main dwelling, the apartment unit is cozy and entirely self-functional, with a living room, rear-facing windows, a kitchen with dining area, full bathroom and private bedroom that sits on the opposite side of the design from the primary master bedroom. A hallway past the apartment bedroom opens out to a separate covered porch from the main residence.

Other designs, like the Darrington #89422, use a split garage concept to provide a bit of separation between main and secondary living spaces. Through the front entry, a hallway leads straight ahead to an owners' suite with a wraparound sitting area, master bath, dual closets and double doors that open to a rear patio. The hallway branches off from the master suite to find two additional bedrooms and a bathroom. Back off of the entryway, an opening to the left reveals a vaulted living room that passes through to an open dining room and kitchen with island, plus a walk-in utility room. An exit from the dining room opens to the rear patio, where there's more to discover than a mere detached garage. To the right of the garage, a door opens to reveal the great room of an independent secondary unit, complete with two bedrooms and a shared bath. The great room extends into a kitchen with double doors opening back out to the rear of the patio.
For those looking to build on a sloping lot, duplexes can be an effective way to maintain privacy while letting each side enjoy the benefit of rear-facing views. Plan #78627, a contemporary prairie home is ideal as an investment build, or to provide older children or aging parents with a shared yet distinct living space from the owner. Each matching unit starts with a street-facing garage and front entry to a lofty, open dining room that can easily be arranged to residents' preferences. A kitchen with center island extends off of the dining room, while a hallway off the great room leads to a half bath. Another door opens back from the hall to the master bedroom, complete with a full bath, walk-in closet and exit to a covered rear porch that's also accessed from a sliding great room door.
This main level space is all a couple or small family needs to feel at home. But a staircase right off the entryway leads down to a wealth of additional spaces for those extended visits from family or friends. The bottom of the stairway reveals an adaptable lower level family room with abundant storage space, two additional bedrooms and a full bath.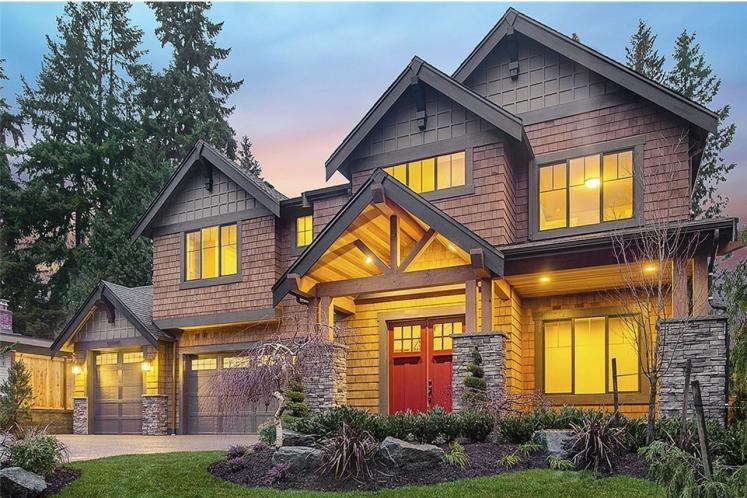 Designs like #77084, lodge-style craftsman spread luxury living across two floors. A grand front facade of siding, stone and shingle and multi-level truss roofing opens to an entry hallway with a den off to the left. Farther down the hallway and past a separated dining room, the hall opens to a great room with a fireplace, and exits out through double doors to a back patio and barbecue area. A rear-facing breakfast nook separates the great room from the adjoining kitchen. On the opposite wall, an open gallery hallway leads to a doorway containing the lower-level suite, complete with a full bath and walk-in closet. This space can easily function as a second master bedroom for an older relative, or to offer a bit of privacy for an extended guest. A staircase back off the entryway climbs to an upper floor loft landing, leading ahead to the primary master entry. Step straight into the bedroom, or off to the stately master bath or walk-in closet on either side. Also off of the loft landing is a second bedroom with a walk-in closet and full bath. The opposite site of the landing opens to a hallway with a bonus room and laundry room on opposite ends, plus two additional bedrooms and a full bath.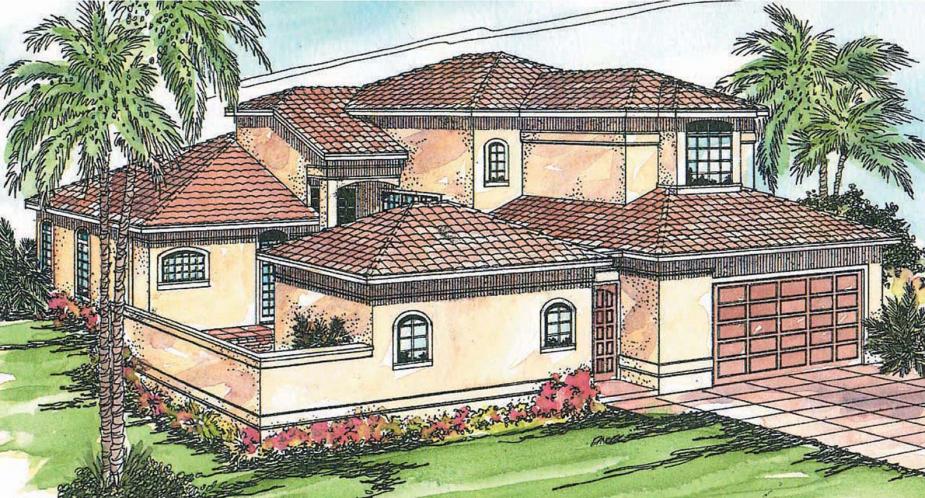 There are plenty of ways to build multiple suites into one design, however. The Coronado #14909 takes a truly distinguished approach. Incorporating elements of Mediterranean and Spanish design, it places the guest suite and full bath in a poolhouse within a courtyard, separated from the main residence by a swimming pool and wraparound patio. This patio leads down past a gated entrance to the right of the guest suite to the main residence's entry. Opening to a two-story entryway, passages lead to distinct living room, dining and kitchen spaces, as well as a two-story family room and adjoining breakfast nook. A staircase rises from the family room to a second-floor landing that's open to the family room and entryway below. This level contains a pair of additional bedrooms, a full bath and additional closet space. Back on the main floor, double doors opposite the living and dining rooms open to the primary owners' suite, which is separated from the master bath by a walk-in closet, and includes a private exit to the courtyard and pool.
[Quote section]
[Product Hero section #1]
[Product Hero section #2]
[Product Hero section #3]
[Product Hero section #4]
[Product Hero section #5]
[Carousel description widget]
[Product carousel widget]