Choosing the perfect house plan can be an exciting yet daunting task. With a plethora of options available, it's important to find a design that aligns with your lifestyle, preferences, and aesthetic tastes. In this article, we will delve into four distinctive house plans, each offering its own unique charm and functionality. From a modern concept plan to a farmhouse-inspired tiny home and a unique view lot design, to a modern Craftsman with a basement, let's explore these captivating residences in detail.
The Modern Concept Plan: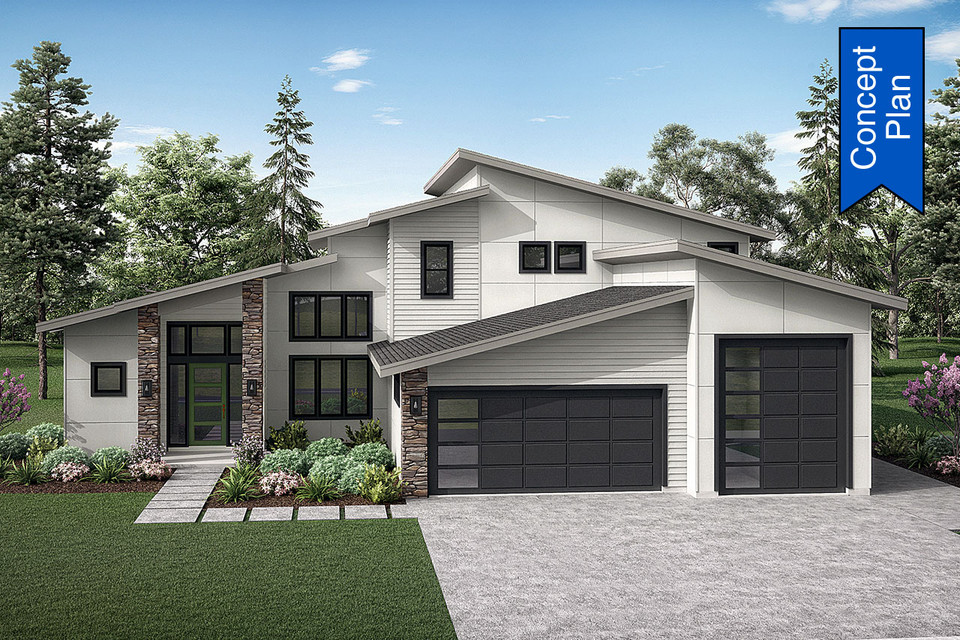 Spanning 3420 square feet over two stories, this modern concept plan embraces contemporary architectural elements and offers a spacious living environment. The first floor welcomes you with a vaulted great room adorned with a large fireplace, creating a warm and inviting ambiance. The double sliding glass doors seamlessly connect the interior to the expansive covered patio, perfect for entertaining and enjoying rear-facing views. A main floor master suite provides a private retreat, featuring a large walk-in closet, a well-appointed en-suite, and a private covered patio. The second floor offers versatility with a large den, ideal for a home office, a recreation room with a covered balcony, an exercise room, and a second bedroom suite.
The Farmhouse-Inspired Tiny Home: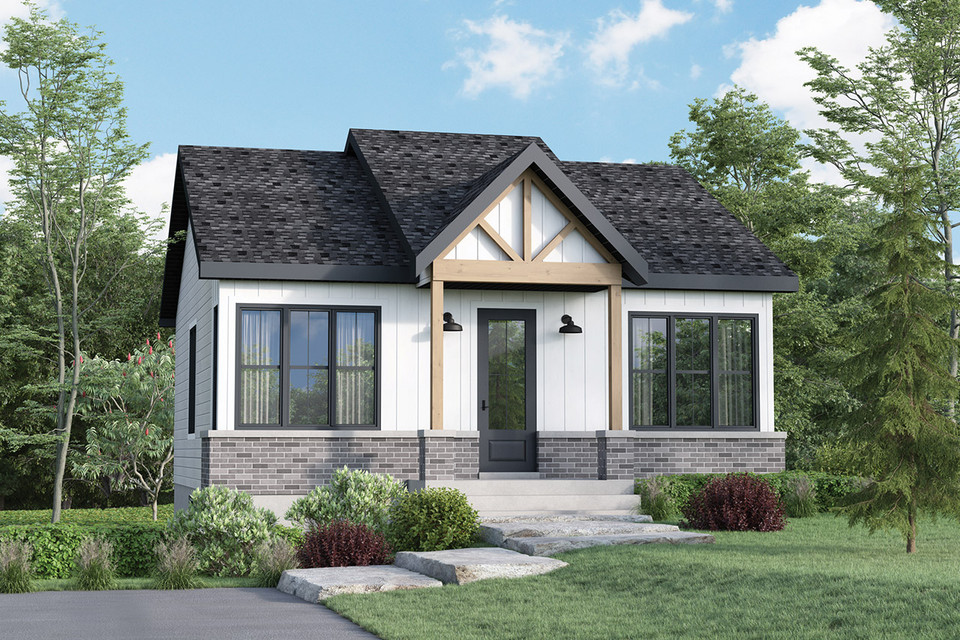 If you appreciate the charm of a farmhouse exterior and crave a comfortable yet minimalistic lifestyle, the idyllic tiny home design will captivate you. With a modest 900 square feet, this dwelling maximizes its space, showcasing great room-style living and two bedrooms. The farmhouse aesthetics lend a cozy and inviting atmosphere, while the efficient use of space ensures functionality. Despite its small footprint, this tiny home offers everything you need to live comfortably and stylishly.
The Unique View Lot Design: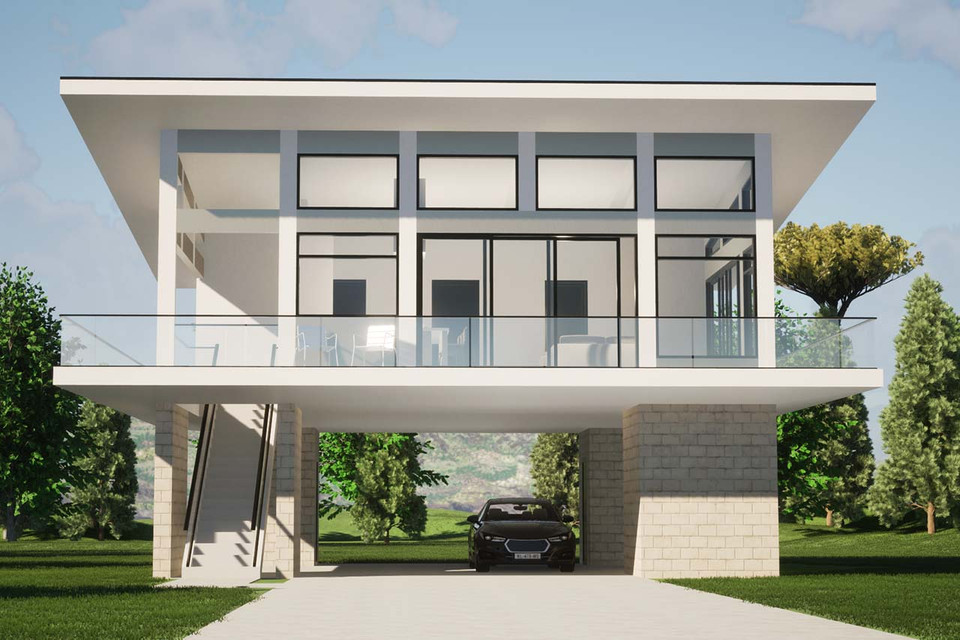 Designed for view lots, this house plan boasts a unique modern exterior that seamlessly blends contemporary aesthetics with practicality. The main living area is situated on the second floor, offering panoramic views of the surroundings. A porte-cochere style carport fills the ground level, providing convenience and shelter for vehicles. The heart of the home resides in the great room, flanked by two bedroom suites, each with direct access to the wraparound balcony. This design capitalizes on the natural beauty of the location, creating a harmonious indoor-outdoor living experience.
The Modern Craftsman with Basement: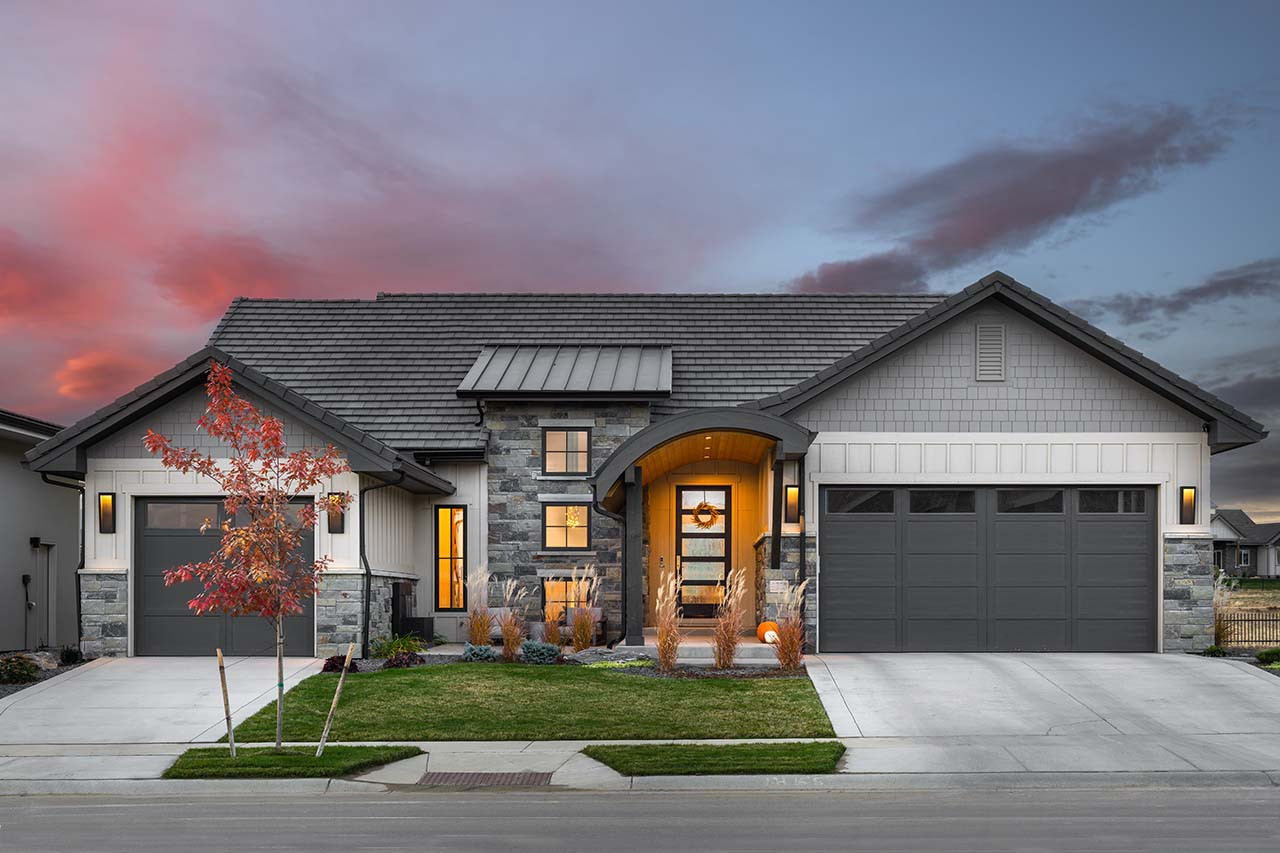 Combining the timeless appeal of Craftsman architecture with modern sensibilities, this house plan stands out with its distinctive half barrel entry. As you approach the front door, the graceful arc draws your eye, inviting you into an open floor plan that exudes comfort and style. The main level offers two bedrooms, catering to the needs of a growing family or accommodating guests. The basement provides additional space for customization, whether it be a recreation area, home theater, or a workshop. This modern Craftsman design offers the perfect blend of traditional charm and contemporary living.
With an array of house plans to choose from, finding the one that resonates with your vision is an exciting journey. Whether you prefer a modern concept plan with expansive living spaces, a farmhouse-inspired tiny home that emphasizes simplicity, a modern exterior design tailored for breathtaking views, or a modern Craftsman with a basement that combines elegance with functionality, there's a perfect home plan waiting for you. Take inspiration from these unique designs to create a space that reflects your personality and fulfills your aspirations. Remember, a well-designed home is the foundation for a fulfilling and harmonious lifestyle.
[Quote section]
[Product Hero section #1]
[Product Hero section #2]
[Product Hero section #3]
[Product Hero section #4]
[Product Hero section #5]
[Carousel description widget]
[Product carousel widget]