Country-inspired design can mean different things to different people. Depending on who you ask—builders, architects or home buyers—it may include traditional Ranch, Country and Farmhouse designs. For design purists, each of these design themes has specific elements that make them stand apart. As the popularity of home design and renovation shows has exploded over the past decade, the definition of "country-inspired" home design has been unofficially modified, and now includes interpretations that blend the different style elements.
"Often it's a sense of nostalgia that draws people to ranch, farmhouse and country-inspired designs—whether it reminds them of where they grew up or their grandma's house," said Rick McAlexander, CEO of The House Plan Company. "Significant latitude is exercised when designing, allowing for less than traditional execution of the genre. Blending style elements has become more widely accepted, so we often end up with an essence of a specific style. Ultimately, home buyers should go with what makes them feel best about coming home."
To understand how country-inspired design has evolved, how it differs from ranch and farmhouse styles, and what keeps these options in vogue, The House Plan Company, a house plan marketing firm based in Eugene, Oregon asked designers and architects to weigh in.
Ken Pieper, residential designer at Ken Pieper Signature Designs noted that country and modern farmhouse designs are still a very strong request among his clients. "Main level living, referred to as ranch design, plays well when the customer has property to support the size footprint," said Pieper. "Ranch and farmhouse designs require more space, and often result in higher costs for the buyer. I always advise my clients to select a design that speaks to their lifestyle, as 'home' should be a true reflection of who we are."
What differentiates these home designs, and what do they have in common?
Ranch
Typically featuring a less complicated layout, most ranch home designs offer single level living and casual, open floor plans. Spacious patios, expansive porches, vaulted ceilings, larger windows and a relaxed layout with open kitchen are characteristics often found in ranch homes.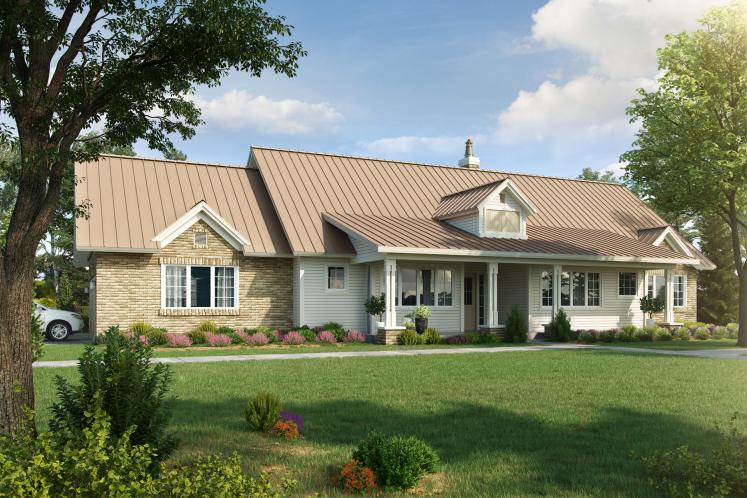 Country
Known for their use of simple, traditional design elements, country homes are often thought to represent an "Americana" style. The use of softer, curved lines and the incorporation of wide, wrap around porches, gabled rooflines and modest wood exteriors give way to open concept interior designs that feature large kitchens and massive great rooms.
Farmhouse
With floorplans often arranged around expansive, eat-in kitchens, farmhouse designs make use of clean lines, and can incorporate features such as lap siding, steep roofs and generous porches to enjoy the outdoors. Popular because of its warm, approachable style, farmhouse design generally reflects a clean, casual approach with defined lines.
What keeps these styles current? Sometimes it's a modern twist—smooth lines, glossy accents and neutral color schemes that add a sophisticated element. Versatile traits that blend well with industrial, modern or traditional styles are also key to these designs' popularity and longevity.
Charles Roccaforte, Texas-based owner of Charles Roccaforte's Hill Country Plans, Inc. encourages home buyers to consider incorporation of uncommon design elements to give these styles a timeless feel. Ideas he has recommended include stucco, rock, and use of exterior heavy trusses and metal roofs.
"High pitch metal roofs, high ceilings and a pallet of materials are what continue to draw people to these styles. Roughly 75% of my plan portfolio is represented by country-inspired styles. I don't anticipate that changing anytime soon," said Roccaforte.
As seen on PRUnderground
[Quote section]
[Product Hero section #1]
[Product Hero section #2]
[Product Hero section #3]
[Product Hero section #4]
[Product Hero section #5]
[Carousel description widget]
[Product carousel widget]